Fiberglass Pool & Steps Resurfacing & Repair Products
Eco-Friendly Fiberglass Pool Coating
Derby City Pools is proud to provide an eco-friendly fiberglass pool coating!
PolyFIBRO® is an advanced aquatic coating designed to extend the life of your pool and reduce maintenance. This unique pool finish is a durable thermo-polymer coating that won't chip or peel.
PolyFIBRO® comes in a range of colors and shades, making it simpler to apply than gel coatings. Are you ready to turn your ordinary swimming pool or spa into a luxurious, low-maintenance showpiece?
The Benefits of polyFIBRO® Pool Finish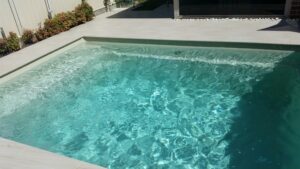 pH Neutral Surface that doesn't react with water chemistry.
Our pool coatings provide a chemically inert barrier, preventing issues caused by acidic water, such as etching and staining. Backed by scientific research, these innovative coatings offer a solution that was not available in 1991. Upgrade your pool with polyFIBRO® for long-lasting beauty and protection.
Use Less Chemicals  
ecoFINISH® pool coatings eliminate the pH-shifting chemical reaction between water and cementitious surfaces, resulting in reduced chemical usage. Commercial pool owners have reported up to 40% annual chemical savings with our high-performance finishes.
Easy Chemistry  
Maintaining proper pH and chlorine levels in polyFIBRO® pools is similar to vinyl liner pools. pH drift is minimized, making it easier for pool owners to balance chemicals. Additionally, there's no need to pre-dilute acid before adding it to the pool, simplifying chemical maintenance.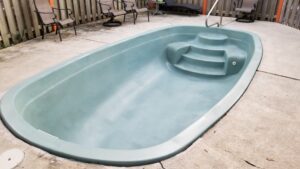 Chemical Resistant  
polyFIBRO® are made from resin in the same polymer family as pool chemical storage jugs. They are approved for pools and spas heated up to 104°F (40°C). Additionally, they are resistant to blistering, chalking, peeling, cracking, and deterioration under normal use.
Scale Resistance  
Scale build-up on a pool's surface is typically caused by calcium in the water or calcium from above the waterline. However, polyFIBRO® surfaces are non-porous and chemically unattractive to calcium, preventing scale formation. Any loose calcium can be easily removed or treated with a proper agent and a "stain eraser" on a brush handle.
Chip, Flake, Peel, and Chalk Resistant 
polyFIBRO® uses a strong resin that lasts for years, even outdoors. Unlike vinyl and fiberglass, our coatings don't degrade. ecoFINISH® coatings remain soft, flexible, and resistant to chipping, flaking, and peeling. They stay flexible, resist chips, and form a solid layer on your pool when installed correctly.
Accelerated QUV Testing / Fade Resistant 
polyFIBRO® have top-grade pigments for UV protection and color stability. Tested in different climates, they resist fading. Accelerated weathering testing confirms their durability against UV sunlight. With ecoFINISH® coatings, your pool will stay vibrant for years.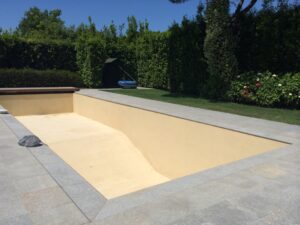 Stain Resistant ecoFINISH® Powder Coatings 
polyFIBRO® is a fine powder coating applied through the ecoFINISH® thermal process. Upon contact, it adheres, flattens, and fuses, forming a seamless, pore-free layer. This layer is resistant to algae, staining agents, and is easy to brush off.
Crack Resistant  
ecoFINISH® pool coatings are a durable and flexible choice for your pool. It covers small cracks during installation and easily matches repairs. Any cracks that appear later can indicate structural issues requiring major repairs.
Slip Resistant Installation Techniques Available 
polyFIBRO® pool finishes are naturally slip-resistant, with an orange peel texture. They can be applied to step treads, bench tops, and beach entries to enhance safety. These coatings exceeded the minimum slip resistance standards, ensuring a very safe pool experience. Trust in polyFIBRO® for both aesthetic appeal and enhanced safety.
Soft and Easy on the Feet  
polyFIBRO® are designed to have a soft, "orange peel" texture, providing a pleasant feel for swimmers' feet. Unlike cementitious or pebble finishes, which can become rough and abrasive, our coatings offer a comfortable surface to walk on.
High-Performance Coatings
Outstanding Adhesion  
Cementitious pool finishes are prone to degradation on both the surface and interior, forming delamination and hollow spots. Pebble finishes have lower risks but are still vulnerable. In contrast, polyFIBRO® pool finishes provide impermeable, waterproof barriers that protect against water chemistry damage. These coatings demonstrate exceptional bond strength, surpassing ASTM adhesion tests.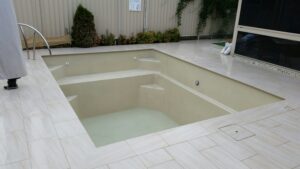 New Finish Start-Up  
With polyFIBRO® finishes, there's no complex startup process. Simply fill the pool, balance the water chemistry, and enjoy crystal clear water. There's no need for continuous brushing, backwashing, or acid washing. With our finishes, you can start using your pool immediately.
Repairable  
Damage to a pool's surface, whether from natural or human causes, is inevitable. polyFIBRO® coatings hide minor imperfections and are easily repairable. Cosmetic damage is fixed by reheating the material. Major repairs involve cutting back the damaged area and reapplying the ecoFINISH® coating for a seamless blend.
Water Slide Finish  
polyFIBRO® provide durable, slip-resistant surfaces for steps and waterslides. Unlike cement slides, our finishes maintain their color, appearance, and slip resistance for years. They can be re-glossed or enhanced without removal.
Use Above the Waterline  
polyFIBRO® coatings resist cracking and fading above the waterline. They are suitable for coping, vanishing edges, and exposed bond beams, eliminating the need for pool tiles. Enjoy a consistent, matching finish throughout your pool with our ecoFINISH® coatings.
Custom Colors  
We offer eight color options. However, we can accentuate specific colors throughout the pool and hardscape, from varied shades to vibrant hues resembling water parks. Colors can be matched from physical samples, swatches, or RAL color codes provided by customers.  Both have speckled finishes resembling granite, blending various colors like white, brown, blue, and grey/black tones.
Color Uniformity  
The polyFIBRO® installation guarantees a consistent color and pattern throughout your pool's interior. Unlike cementitious options, ecoFINISH® coatings won't mottle or show uneven color changes. The pigments are protected in the polymer resin, ensuring long-lasting color without patches or bleaching caused by pool water chemistry.
Eco-Friendly Finish  
ecoFINISH® Pool Coatings are environmentally friendly and offer numerous green attributes:
Requires less energy to manufacture compared to cementitious materials.
Requires less energy for transportation, reducing shipping weight.
Installation requires less energy.
Longer lifespan reduces the need for multiple replacements, saving energy.
Requires fewer chemicals for water maintenance, reducing manufacturing and chemical exposure.
Materials are recyclable if physically removed from the pool.
Coating powders have an indefinite useful lifetime and don't require landfill disposal.
Eliminates end-of-job waste associated with cementitious finishes.
Warranty  
The polyFIBRO® Pool Finish comes with a warranty that stands out in the pool coating industry. Unlike other warranties, we don't require perfect water chemistry and proof of maintenance. Our Limited Warranty covers
Chemical resistance,
Chalking Resistance,
Surface Mildew Growth Inhibition,
Crack Resistance,
Spall and Delamination Resistance,
Organic Stain Resistance.