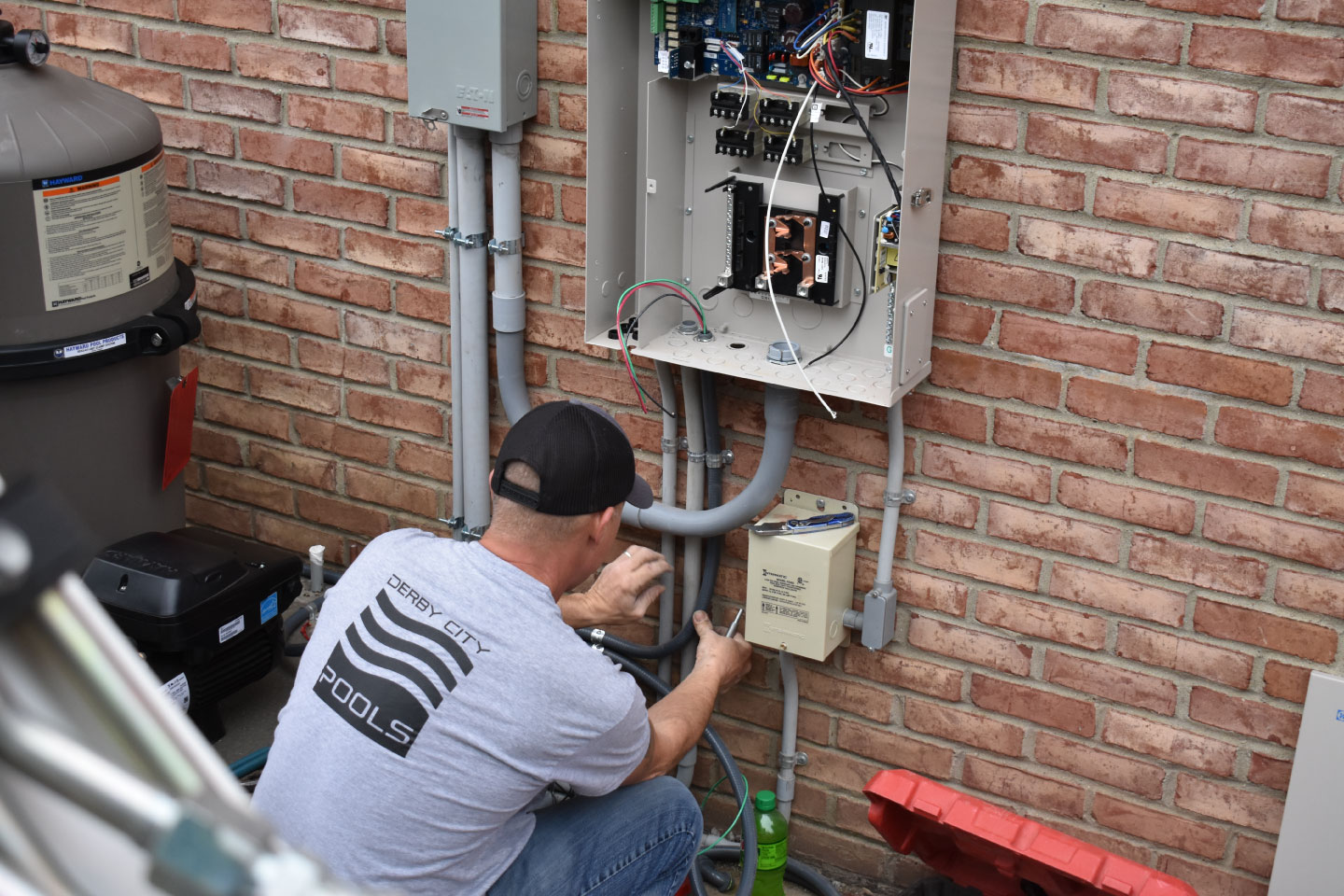 Pool Technician 2+ Years Experience
"Building The Best for Our Customers"!
Want to become a Derby City Pools Swimming Pool Service Technician? Or do you already have what it takes to be a Derby City Pools Service Tech! Do you want to work for the best swimming pool company in Louisville, KY?
We are hiring full-time Swimming Pool Service Technicians starting at $14 – $22 hr. with benefits! Banded Company Vehicle, DCP Tablet, DCP Logoed work gear, best pool industry service hand tools, paid for continuous education and training from the industry's best professionals and trades associations, paid for certifications, simple retirement plans, PTO, and Paid vacation!
Service Technician with at least 2+ Years Experience – $18.50 – $22.00/hr.
Valid KY drivers Lic
Minimum 2 years experience and/or your CPO, CMS, or CSP certification – And able to provide Hayward certified – Hayward University certification
Good work ethic and willingness to learn – Ask questions, stay engaged on time, reliable, works well with others, etc.
Problem-solving skills – Analysis and come up with best sound solution/s to problem and/or not afraid to ask for help. Know where to look or who to ask.
Knowledge of hand tools – power tools, hand tools, shop vac, pool blower, hammerhead vac
Duties
Manage 1-3 Service Techs – Leadership skills, People skills, Training Skills
Health & Safety
Water Quality & Pool Chemistry – Alkalinity, PH, Free & Total Chlorine, Cyanuric Acid, and Total Hardness. Safely adding chemical and how. Don't mix on pool deck.
Practical Knowledge – DCP Customer Service info warranty & state and local Legal & laws.
Pool Mathematics – How to figure water volume
Circulation – VS Pump, Suction and Return side, main drains, skimmer/s, returns, water features
Filtration – Cartridge and Sand. How to size. How and when to clean
Working Knowledge of Salt systems/chlorine generator and Chemical
Feeders – How to check for salt, how many PPM, how and when to add salt, etc.
Electrical Components – Lighting/LED, transformers, automation system/s, replace, install, function, test, diagnosis, etc.
Heaters – Gas & Electric – Natural Gas and Propane, Electrical Heat pump, install, functions, test, diagnosis, replace
Knowledge of pool shell structure and finish – Fiberglass constructions and finish
Water Features – Waterfalls, Deck Jets, sheer descent, water slide, etc.
Maintenance service
Equipment functions, settings, and systems diagnosis – Pool leak, equipment diagnosis, automation setting, etc.
Know how to properly clean a pool and equipment – clean filters sand and cartridge, clean salt cell, clean pump, clean skimmers
Winterizing and Open Swimming Pools – Process for both, check water chemistry, clean salt cell, clean filters, remove eyeballs and skimmer baskets, install gizmos and duck plugs, blow out system, power down, add chemicals, install cover, etc.
Installing a new safety pool cover – proper layout and marking of new safety cover, drill new deck anchors, install deck anchors, install cover
Knowledge of auto covers – Electrical, motor, sensor/s, lid, functions, etc.
Basic understanding of Automated Pool systems "Hayward Automation" – set-up, programming, diagnosis, etc.
*Certifications get you more pay – Hayward & PHTA
Benefits
Branded Company Vehicle
DCP Tablet
DCP branded work gear – Hats, toboggan, hoodie, jacket, rain gear, long and short sleeve, gloves
Work gear allowance
Best pool industry service hand tools – Milwaukee power tools, Klein tools, Channel Lock, Hammerhead,
Paid for continuous education and training from the industries best professionals and trades associations
Paid for certifications and continuous education
PTO
Paid Holidays
Paid Vacation
Simple retirement plans
POLICY STATEMENT: Discrimination against all individuals, including disabled veterans and veterans of the Vietnam Era regardless of race, sex, color, religion, national origin, or physical or mental disability is prohibited. The Age of Discrimination in Employment Act of 1967 prohibits discrimination on the basis of age with respect to individuals who are at least 40, but less than 70 years of age. If you believe you have been discriminated against, you may notify the Equal Employment Opportunity Communications Commission, The Employment Standards Administration or other appropriate federal or state agencies.