Unmatched comfort, convenience, and peace of mind.
As the global leader in salt chlorination, Hayward provides clear, soft water and the most convenient sanitization method on the market to millions of pool owners around the world.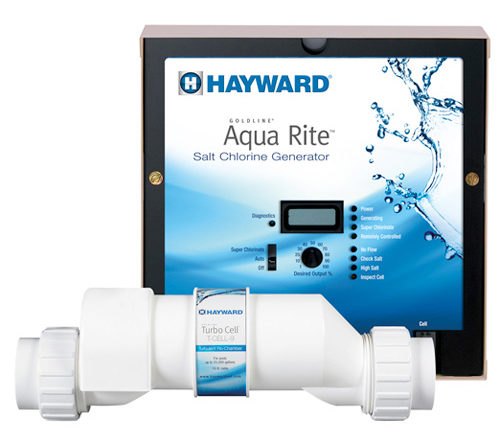 AquaRite salt chlorinator is the convenient alternative to conventional chlorine – bringing the very best in soft, silky water with no more red eyes, itchy skin, harsh odors, or direct handling of chemical chlorine. With automatic chlorine production and the industry's best warranty, AquaRite systems deliver 50% or more savings over conventional chlorine.
FEATURES & BENEFITS
The World's #1 Salt Chlorinator – genuine excellence, luxurious experience
Right-sized for new and existing residential pools up to 40,000 gallons
Premium comfort of soft, smooth water with no more red eyes or irritated skin
Convenient for never needing mix, measure, lug or store chlorine again
Cost savings of up to 50% or more over conventional chlorine
Smart Pool Control integration for existing or new AquaRite installations with Hayward OmniHub smart pool control that delivers anywhere access, control, and management of the entire pool pad through smartphone or via Alexa®.
Expert Line models offer Extended Life TurboCells that produce 25% more chlorine over its lifetime, plus extended warranties for completely worry-free relaxation.
Digital display and simple operation with the ability to adjust chlorine output from 0–100%
Automatic cell cleaning
Single unit for 120VAC/240VAC 50/60Hz input
Weatherproof enclosure and connections
NSF certified for chlorine delivery rates and ETL safety certified
Ready to Make Your Pool Dreams Come True?
Call (502) 548-4800 or click the button below to contact one of our fiberglass pool specialists now.