How to Choose a
High-Quality Fiberglass Pool
A pool can last a lifetime, so when choosing a high-quality fiberglass pool manufacturer,  Imagine Pools™ is our first and only choice.
With over twenty years in the business, Imagine Pools has built and delivered thousands of pools throughout the United States. They are one of the world's largest manufacturers of in-ground, one-piece composite fiberglass swimming pools. Imagine Pools have a fine reputation that has earned the trust of families and pool builders alike.
Our mission is to provide high-quality craftsmanship as pool contractors. Therefore, we dedicate ourselves to building with only high-quality products. So what do we look for when trying to find the best pool supplier?
Lifetime Structural Warranty and a Lifetime Structural Osmosis Warranty. Plus, we offer a ten-year Gelcoat Warranty.
Five Essential Features of a High-Quality Pools
Builders in every industry know that your work is only as good as the materials you use. So when selecting Imagine Pools as our preferred supplier of fiberglass inground pools, here's what we look for:
Warranty
Safety Features
Structural Integrity & Durability
Construction Process
Pool Design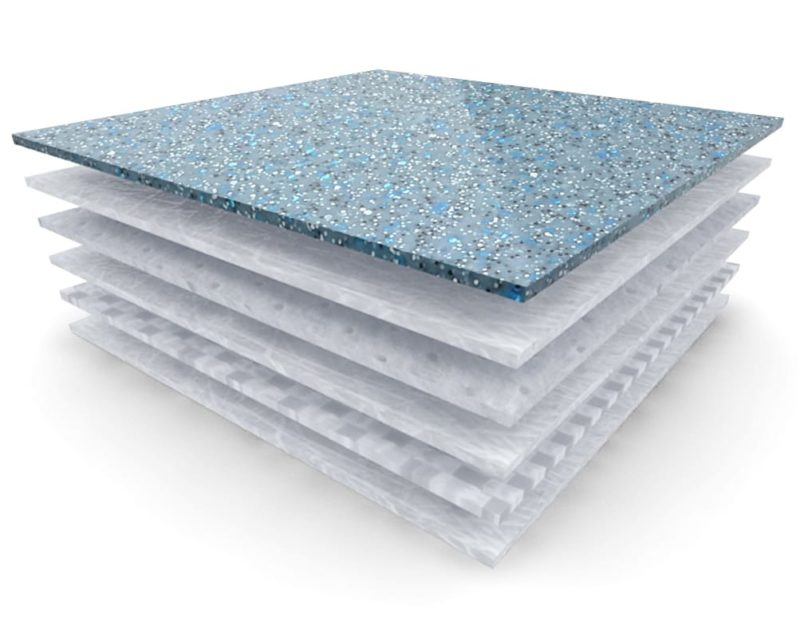 Other Fiberglass Pool Manufacturers vs. Imagine Pools™
Warranty: If your product is as good as you say it is, you should be willing to back it up. Imagine Pools™ guarantee every pool for life! It includes a Centurion Lifetime Structural Warranty as well as a Lifetime Structural Osmosis Warranty. Additionally, they even guarantee their finish with a ten-year Gelcoat Surface Warranty.
Safety Features: Safety is very important to us, and we want to share that with our customers. A perimeter safety ledge is built into every Imagine Pools™ pool design. Furthermore, this unique perimeter adds strength to the pool structure.
Structural Integrity & Durability: We were looking for swimming pools that were not only durable. Equally important, we want low maintenance and trouble-free products for our customers. We found that Imagine Pools™ engineers each fiberglass pool using high-quality materials from the core to the finish.
Construction Process: Strict protocols to preserve quality during the construction process is vital. We are still amazed by the quality control measures and supervision at Imagine Pools™' manufacturing facilities.
Pool Design: Finally, we can't overlook pool design! To date, Imagine Pools™ offers over 40 different models, including splash decks, spas, and spa combos, tanning ledges, and curves. Additionally, you can find a variety of pools shapes, sizes, and colors in each category.
How is a Fiberglass Pool Made?
So how is the perfect pool constructed? Imagine Pools™ crafts composite fiberglass swimming pools with marine-grade technology and Centurion Core Construction.
Most importantly, quality begins at the core. Six layers of structural integrity, durability, and corrosion resistance are carefully constructed. What are these layers, and what purpose do they serve?
Hand-Laid fiberglass – builds added strength and durability
Structural insulation – improves thermal efficiency by enabling heat retention
Premium grade vinyl ester resin – three high-performance layers improving structure while preventing osmosis.
Gelcoat – top quality Gelcoat providing a smooth finish, with seven color choices.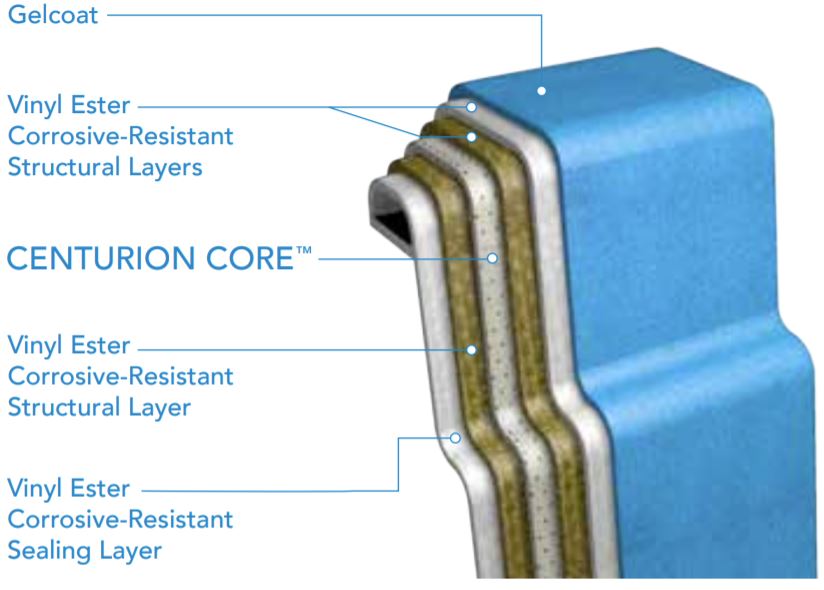 Does the Color of Your Pool Make a Difference?
The color of your pool does more than add beauty. The "pool color" is a result of a Gelcoat finish.  However, this pool finish adds luster and creates a smooth finish to your newly installed pool.
Imagine Pools™ carefully selected seven radiant colors to set the mood and beauty of your swimming pool. Much thought went into how each pool color would reflect both natural and artificial light.
In terms of setting a mood, pool colors do make a difference. They add sparkle and shimmer to your outdoor oasis. As a result, each color can create an entirely different experience.
Ocean blue – refreshing, cool; sparkles and shines in the sun
Reef blue – calm, tranquil, and smooth
Storm grey – classic, youthful, and carefree
Ice silver – modern, crisp, and reflects the sun in rays of color
Volcanic black – contemporary, light refracting, and shiny
Coral blue – exotic, unique, and adventurous
Beach sand – clear, clean, and transparent, therefore, transforms well with lights and color

Enjoying "Life at its Best™"
Learn more about how Imagine Pools™ is helping people all around the world to enjoy "life at its best." We are proud to partner with Imagine Pools™ and bring our customers reliability, trust, and enjoyment.
Are you ready to start enjoying life at its best with a high-quality fiberglass pool installed by Derby City Pools and built by Imagine Pools™? Derby City Pools will help you design and build your custom pool. So jump over to our "build your pool" section and find what's best for you.